Hardwood Cleaning & Refinishing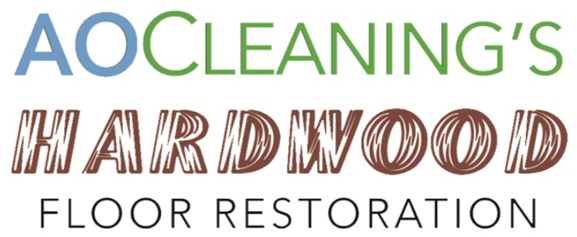 NOTE: Please Customer READ: Sanding VS Screening (Dustless)
We get this Question the most often!
Our "Dustless" Clean, Screen & Recoat is a "maintenance service" option and does not replace sanding. It only removes top coat, not the wood. You can change the sheen & protect & refresh the woods sealer.
Sanding is required, if you have the following: You want to change (Color, You Have Deep Gouges, & Scratches, or Sun Fading by windows, Water Damage, You will NEED a Full Sanding & Recoat.
Dustless
Done in same day!
Walk on in 3 hours
Clean, Screen & Recoat only $2.50 per square-foot
Watch our AMAZING customer review videos!
We take pride in our work and are extremally passionate about getting the job done right.
Don't just take our word for it, watch our awesome customer review videos.
Client Testimonial / Hardwood Floor Restoration / Alton, IL




Hardwood Floor Wax Removal / Client Testimonial / Collinsville, IL



Ryan with AO Cleaning cleaned the HVAC ducts/vents as well as the dryer vents. Our house was only 9 years old at the time of cleaning but has seen multiple construction projects within that time frame. The amount of debris build up was unbelievable and we are looking forward to a better quality in the house. Ryan was very professional and did a great job.
Ryan and his crew were awesome! Would highly recommend. Loved that he educated us on the cleaning process and gave us tips on what we could do to make our heating/cooling system work more efficiently. Thanks Ryan!
I have used several carpet cleaning companies over the years and am a clean freak when it comes to my house, vacuuming and cleaning and this is by far the BEST carpet cleaning we have ever had! I will never use another company and highly recommend their services!
They did a great job on my tile and grout made it look like new! I would definitely recommend them, very professional!
Our hardwood floors were in need of restoration. We called for a consultation and Ryan came right out. The consultation went well, he was very knowledgeable and reasonably priced. Our hardwood floors look AMAZING!. We will definitely be using their services again and highly recommend the company.
AO Cleaning did what the competition could not. I had another company in town clean the floor but fell short of their promise. AO cleaning came to the rescue and removed 10 years of wax that was applied and made the flooring look like new again.. I highly recommend Ryan and his team!
We had AO cleaning come redo our hard wood floors. The floors are 60 years old and had not been done in 20 years. They look amazing. AO was so easy to work with. They came on time. All 3 rooms with the hallway were done in 1 day. I would highly recommend this company.
AO sanding team refinished our hardwood floors. Everyone on the team was top notch, polite, professional and responsive to any concern we raised. Our 15-year-old floors look awesome, with their new satin finish.
Ryan with AO Cleaning did an amazing job getting the wax off my wood floors and my tile floors, cleaning the grout and re-sealing the grout for me. Would use him again for future projects. Looks like new!
I was very happy with the carpet cleaning and pet stain removal that was performed at our house! Looks like new carpet again!!!
Solid Hardwood | Engineered Hardwood
Luxury Vinyl Plank | Refinished
Hardwood floors are one of the most beautiful and elegant flooring types you can hav installed in your home. Yet, they can also be expensive to repair if left unprotected. Like any home investment, homeowners may want to perform routine maintenance on them to prevent severe damage. That's where AO Cleaning comes in. We are a professional sandless hardwood floor refinishing service, and we know hardwood floors. We service all site finished and factory finished solid hardwood, engineered hardwood, and luxury vinyl plank. Our technicians will diagnose the issues and create a plan for making your floors beautiful again. We take pride in giving you an honest assessment of your floor's condition and the right solution that best fits your needs and budget.

Screening of Floors

Removing Wax Buildup

Recoating Floors
Routine maintenance on your hardwood floors will ensure that they not only look great but are protected throughout the year. Professional cleaning, buffing, old wax removal, and refinishing will help prevent deep streaks, stains, and scratches. Hardwood floors are a beautiful real estate assets that require consistent care to maintain.
You can count on AO Cleaning to take great care of your floors.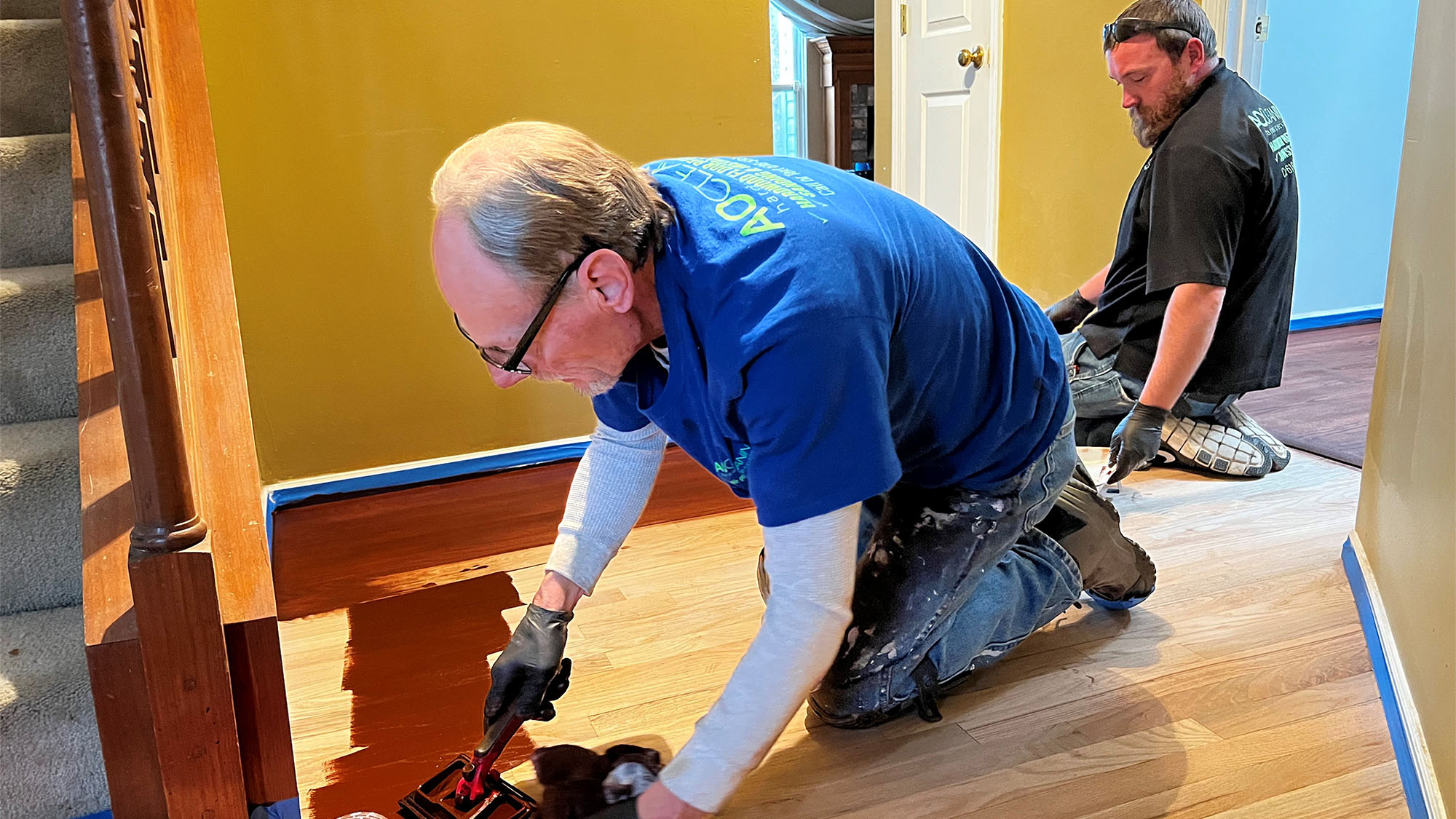 Sand,Stain and Recoat
If your solid hardwood is beyond our maintenance service: A full sand, stain, & recoating is required. Staining of (any color) we then apply two coats of polyurethane. Scratch resistant additive, Aluminum oxide is optional. Note: (Needed) If you have sun fading, deep scratches, or you would like to change the color. This is the only option before replacement.
What Every Homeowner Wishes They Knew About Their Hard Flooring
Hardwood Services
Clean and Buff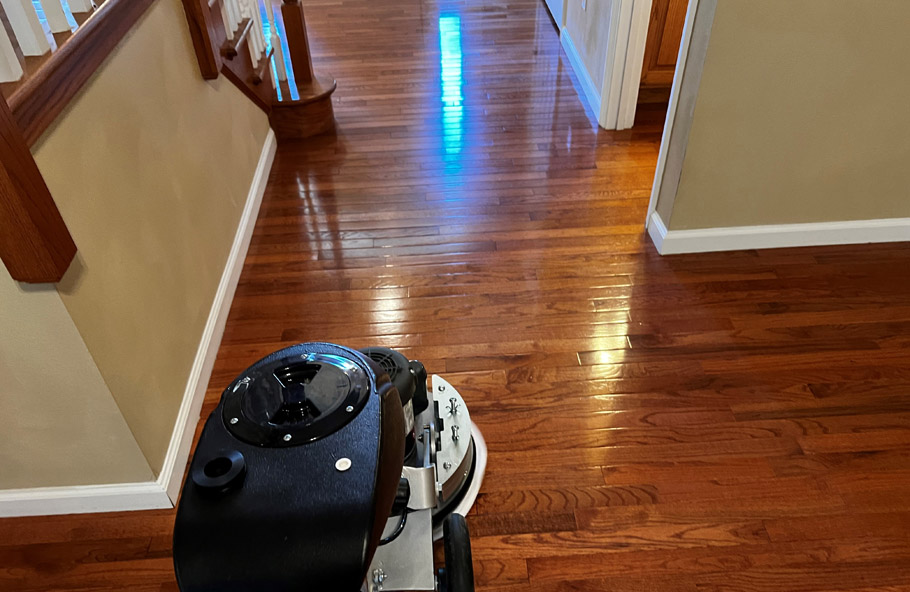 If you have hardwood floors in your home, you're probably familiar with scratches and scuffs. Visible marks on your hardwood floors can be caused by all kinds of things, such as: shoes, moving furniture, drops, pet claws, etc. If these marks are left untreated for too long, it can leave your hardwood floors exposed and lead to future deterioration. To prevent this, AO Cleaning offers professional cleaning & buffing to help bring life back to your hardwood floors & conceal visible damage!
Using a powerful yet safe detergent we will power scrub your floors using professional equipment. The slurry of dirt is then extracted from the floors followed by a neutralizing rinse to get everything squeaky clean. Finally your floors are buffed out with our oscillating floor machine which brings back the natural luster. Your floors are now ready for immediate use. To maintain your floors we highly recommend a Deep Clean and Buff every 12-18 months.
Wax Removal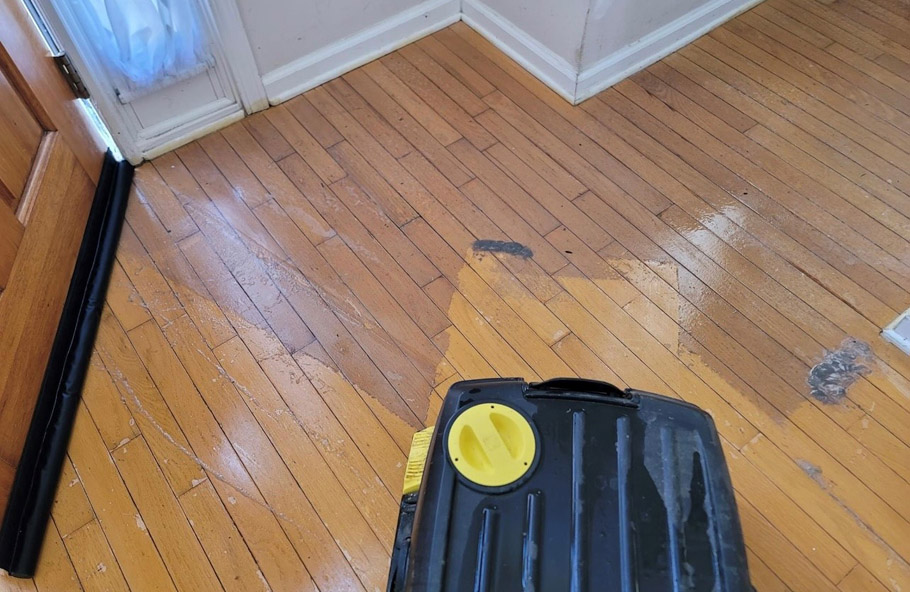 Hardwood floor waxing is a great way to keep your hardwood floors protected from moisture and damage. However, because wax should be applied regularly, a wax build-up can occur and leave your floors looking dull and murky. If you or your housecleaning service has been applying layers of store bought polish to give your floors a shine you likely have a case of wax build-up. Wax removal can be time-consuming and labor-intensive. Save yourself the trouble and allow the trained professionals at AO Cleaning to handle all of your hardwood wax removal needs!
Using an acrylic emulsifier and our heavy duty equipment we will emulsify the wax back into a liquid, allowing us to fully extract it back off your floors. Next we use a product to neutralize the Ph of your floors. Depending on the condition of your floors we will then give a final buff out or proceed to our screening process. Our wax removal process can be used on solid hardwood, engineered hardwood, and luxury vinyl plank flooring. Once we remove the wax we will be sure to educate you further so your floors will never need our wax removal service ever again!
Screen & Recoat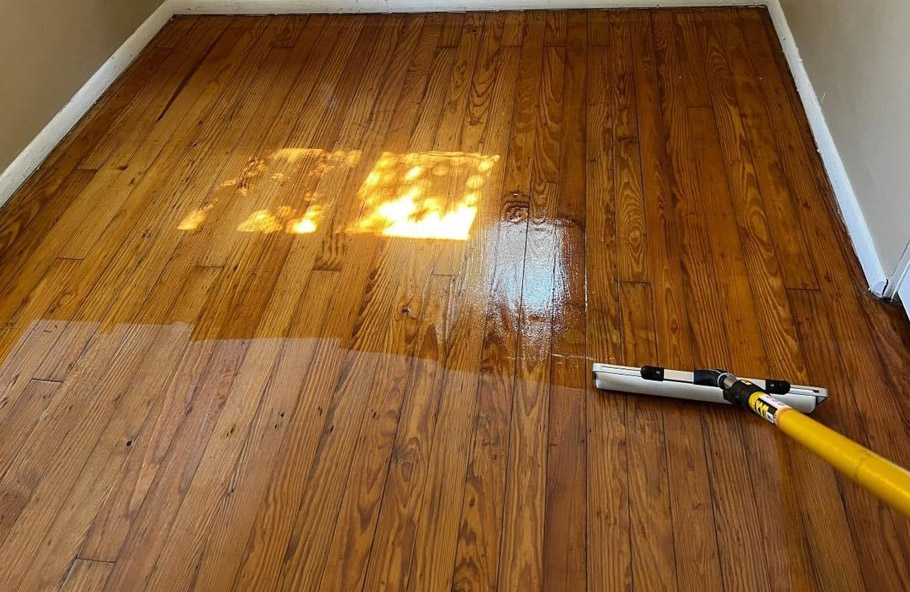 Have you noticed signs of wear and tear on your hardwood floors? If you have, it may be time to have your hardwood floors Screen & Redcoat by AO Cleaning! In order to avoid irreversible damage to your floors, you should have them recoated every 3-5 years. Whether you have solid hardwood or engineered hardwood flooring its "wear layer" needs occasional maintenance.
Over time foot traffic, micro-scratches, pets, and spills will begin to dull the appearance and diminish the protection it's wear layer provides. Once the wear layer is gone your floors have no protection from damage and even the slightest bit of moisture could mean your floors need a full sanding. Having your floors screened and re-coated will return the finish to it's original glory. Keep your hardwood floors looking great for as long as possible by giving us a call today!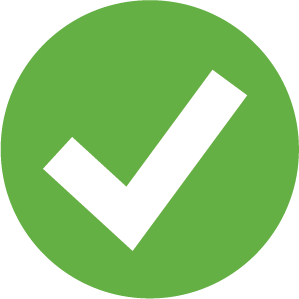 dustless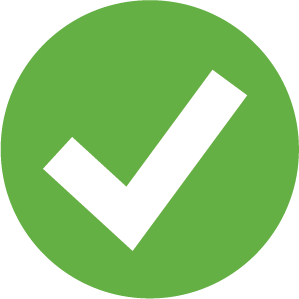 complete in one day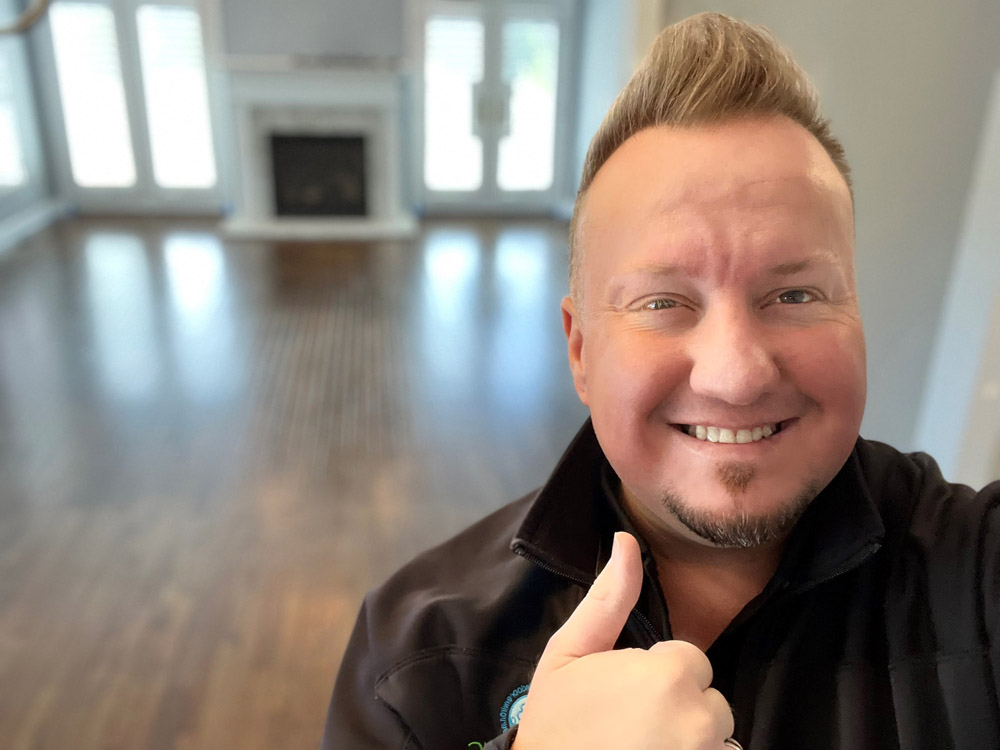 Proud owner and founder Ryan Overbey
We take pride in our work and are extremally passionate about getting the job done right.
Don't just take our word for it, watch our awesome process video.
Why Choose Us?
AO Cleaning's Hardwood Floor Restoration aims to provide unbeatable service that's delivered at your convenience with highly-competitive rates!

Professional cleaning of hardwood floors
Stain free wax build-up removal
Eco-friendly cleaning products
Full sanding, staining, and refinishing available
Fully trained technicians
Dustless hardwood refinishing
Thousands of satisfied customers
Over 20 years of experience
FULL guarantee of ALL work!