Hardwood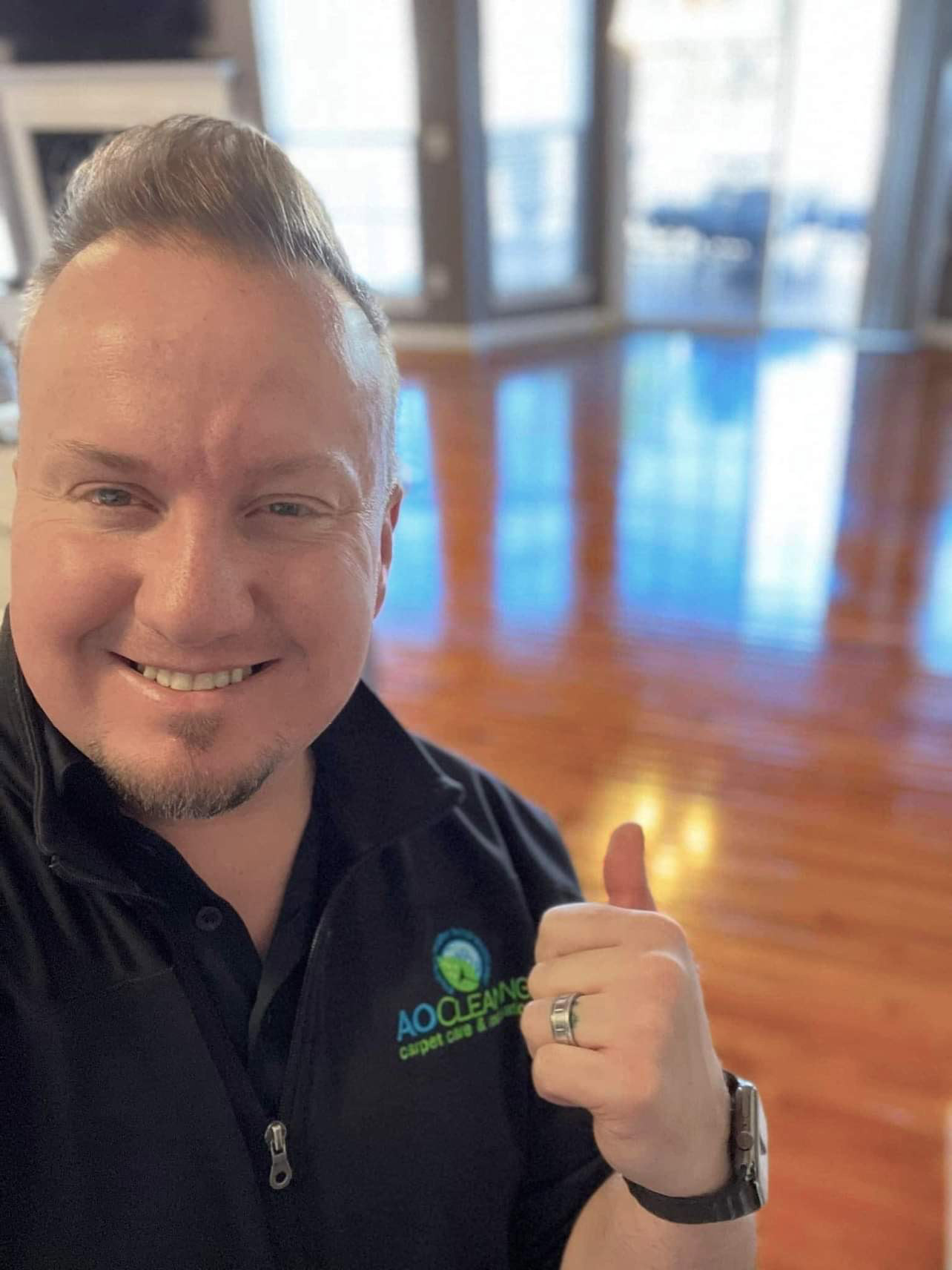 Solid Hardwood | Engineered Hardwood
Luxury Vinyl Plank | Refinished
Hardwood floors are one of the most beautiful and elegant flooring types you can hav installed in your home. Yet, they can also be expensive to repair if left unprotected. Like any home investment, homeowners may want to perform routine maintenance on them to prevent severe damage. That's where AO Cleaning comes in. We are a professional sandless hardwood floor refinishing service, and we know hardwood floors. We service all site finished and factory finished solid hardwood, engineered hardwood, and luxury vinyl plank. Our technicians will diagnose the issues and create a plan for making your floors beautiful again. We take pride in giving you an honest assessment of your floor's condition and the right solution that best fits your needs and budget.



Routine maintenance on your hardwood floors will ensure that they not only look great but are protected throughout the year. Professional cleaning, buffing, old wax removal, and refinishing will help prevent deep streaks, stains, and scratches. Hardwood floors are a beautiful real estate assets that require consistent care to maintain.
You can count on AO Cleaning to take great care of your floors.


What Every Homeowner Wishes They Knew About Their Hard Flooring
Hardwood Services
Clean and Buff
If you have hardwood floors in your home, you're probably familiar with scratches and scuffs. Visible marks on your hardwood floors can be caused by all kinds of things, such as: shoes, moving furniture, drops, pet claws, etc. If these marks are left untreated for too long, it can leave your hardwood floors exposed and lead to future deterioration. To prevent this, AO Cleaning offers professional cleaning & buffing to help bring life back to your hardwood floors & conceal visible damage!
Using a powerful yet safe detergent we will power scrub your floors using professional equipment. The slurry of dirt is then extracted from the floors followed by a neutralizing rinse to get everything squeaky clean. Finally your floors are buffed out with our oscillating floor machine which brings back the natural luster. Your floors are now ready for immediate use. To maintain your floors we highly recommend a Deep Clean and Buff every 12-18 months.
Wax Removal
Hardwood floor waxing is a great way to keep your hardwood floors protected from moisture and damage. However, because wax should be applied regularly, a wax build-up can occur and leave your floors looking dull and murky. If you or your housecleaning service has been applying layers of store bought polish to give your floors a shine you likely have a case of wax build-up. Wax removal can be time-consuming and labor-intensive. Save yourself the trouble and allow the trained professionals at AO Cleaning to handle all of your hardwood wax removal needs!
Using an acrylic stripper and our heavy duty equipment we will emulsify the wax back into a liquid, allowing us to fully extract it back off your floors. Next we use a product to neutralize the Ph of your floors. Depending on the condition of your floors we will then give a final buff out or proceed to our screening process. Our wax removal process can be used on solid hardwood, engineered hardwood, and luxury vinyl plank flooring. Once we remove the wax we will be sure to educate you further so your floors will never need our wax removal service ever again!
Screen & Recoat
Have you noticed signs of wear and tear on your hardwood floors? If you have, it may be time to have your hardwood floors Screen & Redcoat by AO Cleaning! In order to avoid irreversible damage to your floors, you should have them recoated every 3-5 years. Whether you have solid hardwood or engineered hardwood flooring its wear layer needs occasional maintenance.
Over time foot traffic, micro-scratches, pets, and spills will begin to dull the appearance and diminish the protection its wear layer provides. Once the wear layer is gone your floors have no protection from damage and even the slightest bit of moisture could mean your floors need a full sanding. Having your floors screened and re-coated will return the finish to its original glory. Keep your hardwood floors looking great for as long as possible by giving us a call today!
Hardwood Aftercare
Your floors are protected by AO Cleaning's proprietary polyurethane finish.

When can I...
WALK ON FLOORS: at least 3-4 hours
PLACE FURNITURE: after 2-3 days
PLACE AREA RUNGS: after 2 weeks
CLEAN FLOORS: 7-10 days

Follow these guidelines to ensure proper drying. Air circulation from windows and fans will increase dry time.

Screen & Recoating
When your floors begins to show signs of wear, it will need to be recoated to preserve and protect its natural beauty and prevents the need to fully sand it again.
Floor Care Tips:
It is important to maintain the beauty of your hardwood floors by routinely cleaning them with (neutral cleaner) and using a microfiber mop specifically developed for your hardwood floor.
Cleaning frequency is always dependent on use but regular, frequent cleaning is encouraged to maintain the longevity of your hardwood floor. The use of walk-off maps also prevents the spread of dirt and grit.
Avoid using water and vinegar, oil soaps, or wax acrylic or polymers on floors. Vinegar is an acid and over time it will dull your floors finish. Soaps and waxes leave residue on your floor and can attract dirt and wax will peel off overtime and turn dark. It also voids your warranty.
Keep your shoes in good condition -- high heels can damage your floor.
Trim your pets claws to prevent scratches. Use floor protectors on furniture legs.
The use of washable microfiber cleaning pads enhances the cleaners ability to remove dirt and grime.
Get your floors cleaned and buffed every two years to enhance sheen and remove any existing residue film.